Taiwan's medical quality is rated in the top 3 in Asia and its position is quite high worldwide. The team of medical and trained doctors is very professional and thorough (8-10 years). Surgeons are sent to training in the US, and experience 2 - 6 years of practice before practicing. That's why Taiwan's health industry attracts Asian visitors.
->> Registration form: CLICK HERE
At VIETNAM PHARMEDI 2019, Taiwanese Enterprise will introduce new products in the hope that it will be a long-term step forward in the Vietnam Health market with many promises, challenges and opportunities to serve the Vietnamese people with the best products like:
Pharmaceuticals, nutrition & functional supplements
Medical equipment & devices
Hospital – clinic facility
Dental, ophthalmology, dermatology, gynecology, obstetrics equipment & devices
Aids & assistive technologies – homecare devices
Laboratory apparatus & equipment
Beauty Product & Equipment
Medical Tourism
Other equipment & product
Accompanying with enterprises to promote international trade, Taiwan External Trade Development Council (TAITRA) is the leading non-profit trade promotion organization in Taiwan. Co-sponsored by government, industry associations and a number of commercial organizations, TAITRA supports Taiwanese businesses and manufacturers in enhancing international competitiveness and addressing challenges businesses encounter when participating in international markets. Many medical equipment manufacturing enterprises in Taiwan have cooperated to invest and develop medical equipment market in Vietnam through specialized exhibitions.
BUSINESS MATCHING PROGRAM with Taiwanese Companies will be taking place in parallel with the exciting activities in the framework of Pharmed & Healthcare Vietnam 2019. Taiwanese companies also expect to receive the support of Vietnamese companies and meet potential customers & partners to develop together.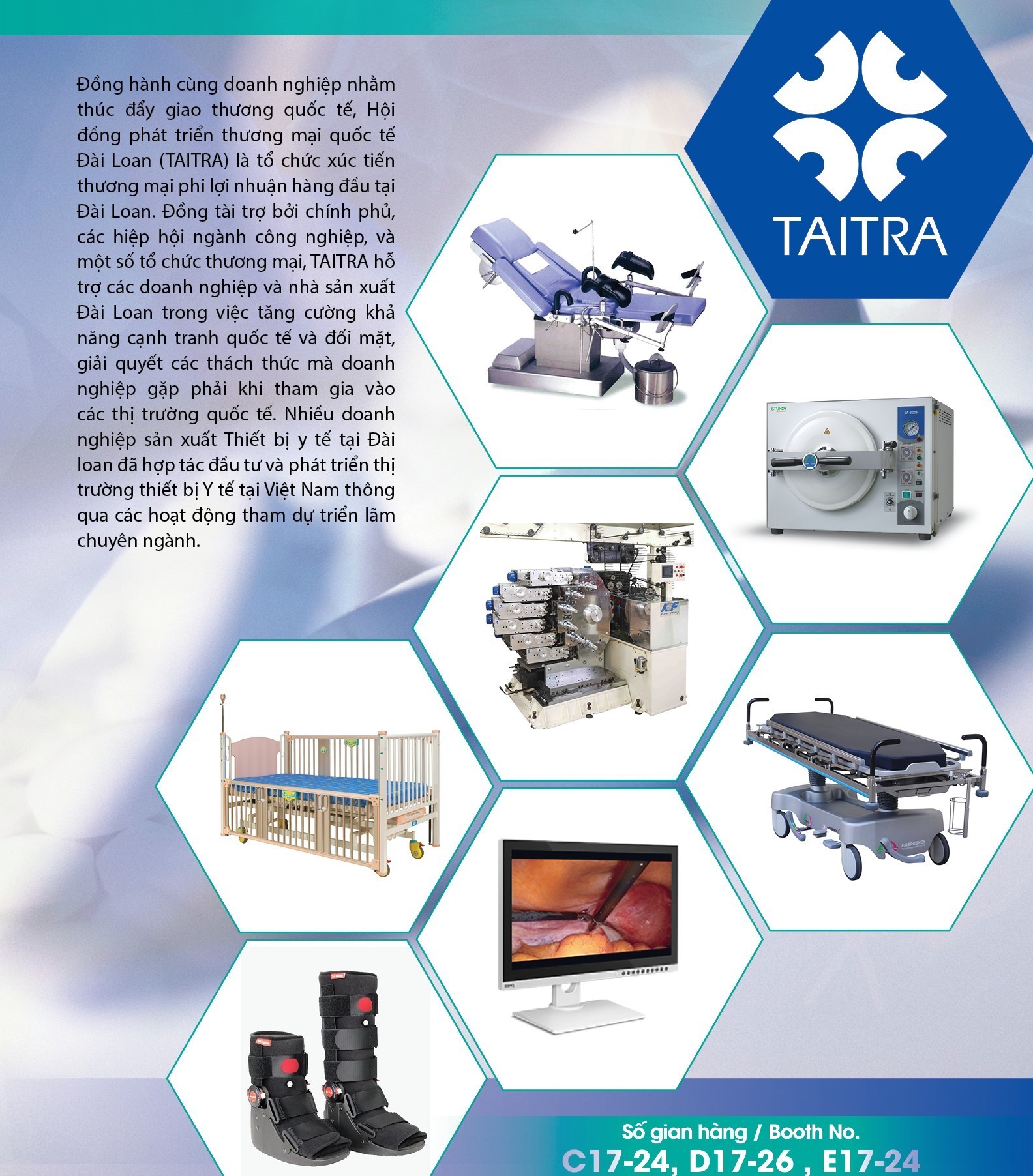 BUSINESS MATCHING PROGRAM WITH TAIWAN ENTERPRISES:
❖ Time: 11-14 September 2019 from 09:00 to 17:00
❖ Location: Saigon Exhibition and Convention Center (SECC), District 7, TP. Ho Chi Minh.
❖ Registration form: CLICK HERE
OFFERS FOR PRE-REGISTERED COMPANIES:
Pre-arrangement for onsite meetings
Free service provided in the buyers' lounge ( Coffee & Tea Coupon )
Welcome at the private counter for B2B registration in advance
Receive valuable gifts form Organize
Take photo of the group
Arrange meetings as required
Receive catalogue and informations of Exhibitors
There is no limit to the number of attendees
Schedule today and see you at PHARMED & HEALTHCARE VIETNAM on September 11-14, 2019 at Saigon Exhibition and Convention Center (SECC), District 7, HCMC. Ho Chi Minh.
Related post