Pharmedi Vietnam 2020 will be held from 16 to 19 September, 2020 at SECC - 799, Nguyen Van Linh, District 7, HCMC. Under the authority of the Ministry of Health, Pharmedi Vietnam was first organized in 2005. Up to now, the exhibition is considered to be the leading medical event in Vietnam with an average annual number of visitors up to 10,000 people, nearly 1000 transactions and contracts have been signed. This annual event has been contributing tremendously to Vietnam's healthcare industry in particular and to the whole domestic economy in general.
Pharmedi Vietnam 2020 is one of the first specialized international exhibitions to be held after the effects of the Covid 19 pandemic with the support from our partners as well as Ministries and Trade Promotion Association from Germany, Japan, Korea, Taiwan. Pharmedi 2020 is highly appreciated not only by our collaborator but also by our customers because of the online business matching program which is held right at the exhibition. Therefore, domestic and international enterprises may have more opportunities to promote trading activities, meetings in the form of 1:1 (seller - buyer) through our copyrighted virtual meeting application without being interrupted. Furthermore, foreign businesses will be able to access the exhibition easily when traveling between countries is limited at the moment.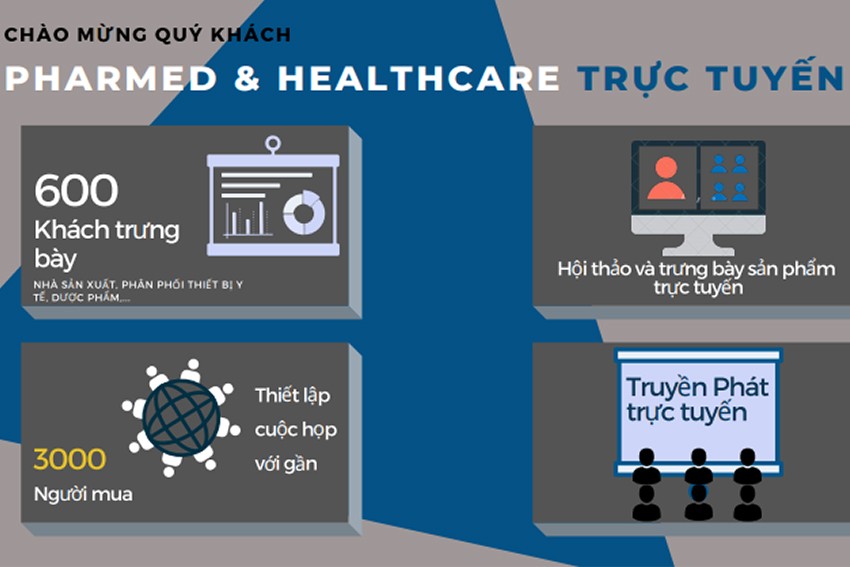 Through the combination of online and offline platform, the exhibition has created an innovation, helping domestic and foreign businesses to find partners and potential customers in production and distribution of Pharmaceuticals - Medical equipment. Accordingly, businesses can take the chance to promote investment when the market is shifting in a different way especially in this Covid 19 pandemic situation.
The representative of the organizers of the exhibition said: "We have considered and premeditated carefully to launch the exhibition program that combines two forms to ensure health safety and the highest commercial efficiency for domestic and international businesses. This combination of offline and online platform will be a suitable model for fairs and exhibitions in the current period. At the same time, this is also an effective way to approach the digital transformation strategy proposed by the Government, thereby enhancing the seeking of potential customers, expanding markets and optimizing commercial industry. "
>>For more information: CLICK HERE
Sign up for online exhibition: : CLICK HERE
Việt Trinh
Related post