In 2021, Vietnam is expected to have 110 million doses of Covid-19 vaccine from many sources, of which groups will be given priority to be injected first.
This year, Vietnam certainly has 60 million doses of Astrazeneca vaccine, of which 30 million doses ordered by Vietnam and 30 million doses supported by COVAX. In addition, the Ministry of Health is continuing to negotiate with the US, Russia ... to buy vaccines. It is expected that this year, Vietnam will have about 110 million doses of Covid-19 vaccine.
According to Health Minister Nguyen Thanh Long, to get the full amount of injections, Vietnam needs 150 million doses of the vaccine this year.
By the end of this month, the first batch of Astrazeneca vaccine will arrive in Vietnam, but may not have enough 204,000 doses as originally planned.
Currently, the Ministry of Health has certified 3 cold storage units up to -86 degrees Celsius of a private unit to preserve Covid-19 vaccine.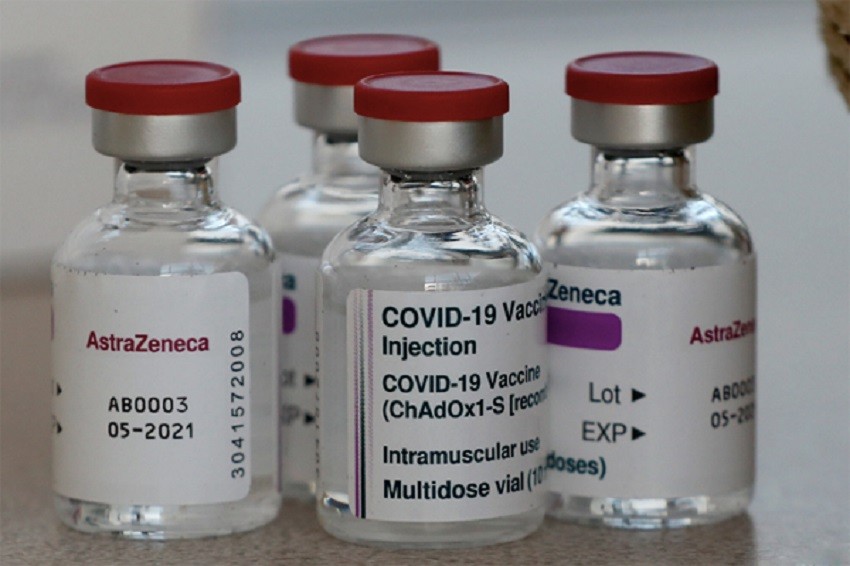 Trong năm 2021, Việt Nam sẽ có ít nhất 60 triệu liều vắc xin Astrazeneca
11 priority groups
Deputy Health Minister Tran Van Thuan said that the Ministry of Health is still working with the agencies and embassies of Vietnam in the vaccine producing countries to negotiate enough vaccines for the entire population during the period. The earliest.
The priority subjects will be based on the Law on Infections of Vietnam and recommendations of the World Health Organization.
"We will prioritize vaccination of high-risk health workers, military forces, police, people serving in quarantine areas, anti-epidemic front lines, people in epidemic zones and groups. the elderly, with background diseases, vulnerable people, requiring prolonged care in health facilities, "said Deputy Minister of Information.
With a limited initial supply, priority will be given to frontline health workers, who are at highest risk of exposure to and contracting Covid-19, to protect and preserve the frontline forces against epidemics.
As the supply of vaccines increases, vaccination will be expanded and on demand will help people access vaccines fairly, publicly, and transparently in terms of cost and effectiveness.
The National Steering Committee for Disease Control Covid-19 will manage, monitor and coordinate Covid-19 vaccination to ensure that all citizens have equal, reasonable and effective access to the vaccine.
It is known that with COVAX's vaccine source, the Ministry of Health has issued a Decision approving the plan to receive, preserve, distribute and use Covid-19 vaccine for the period of 2021-2022.
This year, COVAX is expected to supply Vietnam with more than 4.8 million doses, but in the first quarter, Vietnam will only receive 25-35% of the vaccine (equivalent to 1.2-1.7 million). dose), the remainder will be available in Q2.
Therefore, right in the first quarter, the Ministry of Health will give priority to injecting 600,000 people, with the highest priority being 500,000 medical workers, followed by 116,000 employees participating in epidemic prevention.
In the second quarter, the Ministry of Health will inject about 1.8 million people from 5 target groups, in order:
- Customs officer
- Diplomatic officer
- Army
- Police force
- Teacher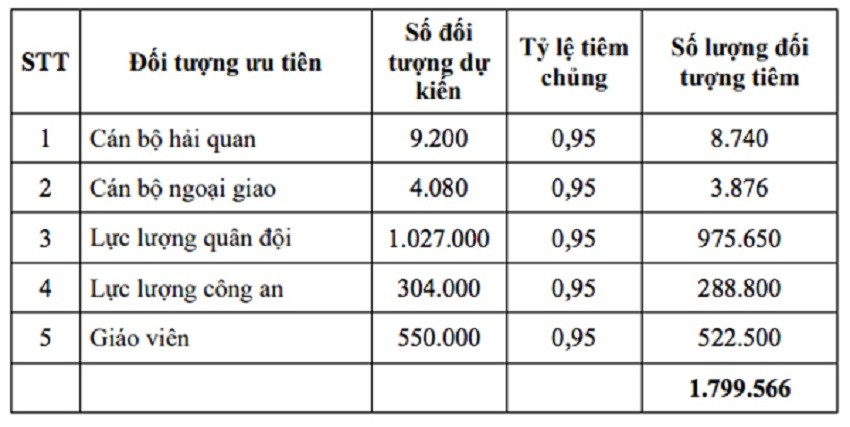 In the last 6 months of the year, COVAX commits to support vaccines for countries to vaccinate up to 20% of the population. Then, Vietnam will have about 33 million more doses, corresponding to 16 million people, in the following order:
- Teacher
- People over 65 years old
- Those who provide essential services: customs, diplomacy, aviation, transportation, tourism
- People with adult chronic diseases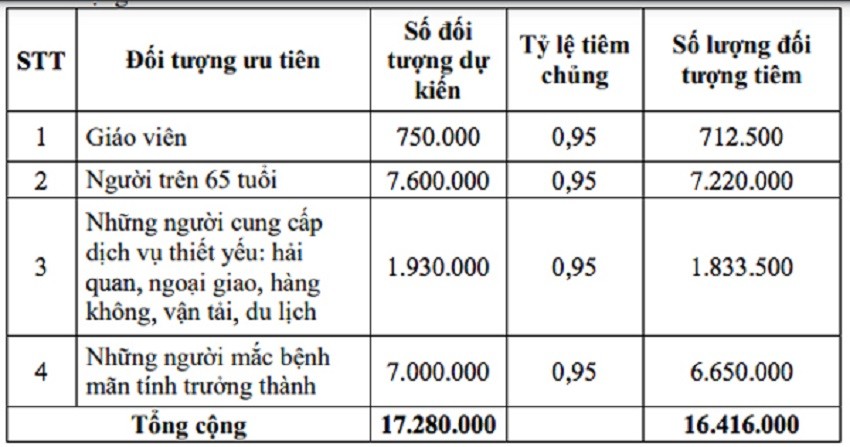 The Department of Preventive Medicine is assigned to assume the prime responsibility for, and coordinate with relevant units in, formulating instructions for organizing the injection; Institutes of Epidemiology and Pasteur Institute are responsible for receiving, transporting and preserving vaccines, training and monitoring immunization activities; The Vaccination Expansion Project is responsible for vaccination planning.
Mobilize social resources to participate in vaccination
Deputy Minister Tran Van Thuan said that the policy of the health sector is to inject on a large scale, as quickly and as much as possible. In order to achieve community immunity, it is theoretically necessary to inject at least over 80% of the population. This is the biggest challenge in the current limited supply of vaccines.
"Therefore, one of the important solutions is to diversify the supply of vaccines, including vaccines produced by Vietnam, and maximize social resources participating in the Covid vaccination program- 19 ", Deputy Minister Thuan said.
Earlier in the February 19 online meeting, the Minister of Health also said that the Ministry encouraged domestic units to actively negotiate, if there is a source of vaccine that can be exchanged and closely coordinated with the Ministry of Health. to import vaccines.
Regarding funding for vaccine purchase, Deputy Minister Tran Van Thuan said that COVAX's fund for vaccine purchase is mainly from the state budget including central and local budgets. There are also other legitimate sources, including the support of philanthropic businesses and organizations.
Provinces that have budgets, want to buy for people, also need to follow the plans approved by the Government.
According to the Decision approving the Plan of receiving, preserving, distributing and using vaccines of the Ministry of Health, the expected funding source to inject 20% of the subjects from COVAX vaccine source is over 6,739 billion VND, however COVAX will support more than 6,300 billion dong, the central budget is expected to spend more than 24 billion dong, the locality is nearly 163 billion dong, the amount of funding that is still lacking is over 202 billion dong.
The remaining 30 million doses of Astrazeneca are expected to be paid for by VNVC itself. This business is selected by Astrazeneca as a distributor in Vietnam.
However, VNVC is not allowed to distribute itself, it must comply with the plan of the Ministry of Health submitted to the Government so that the vaccination program can be carried out fairly and effectively.
Thuy Hanh
Source : https://vietnamnet.vn/
Related post