Deputy Minister Tuyen said on May 31 that he would both test and evaluate the vaccine in the near future.
"If, after consulting the Prime Minister and Deputy Prime Minister, then the ethics committee approves, Nanocovax can be licensed in a state of emergency, like a foreign vaccine," the deputy minister said.
According to professor, Dr. Truong Viet Dung, Chairman of the National Ethics Council in biomedical research, it may take about two more months for the Ministry of Health to have enough scientific basis to grant emergency authorization to use the drug. conditions for Nanocovax vaccine in the country.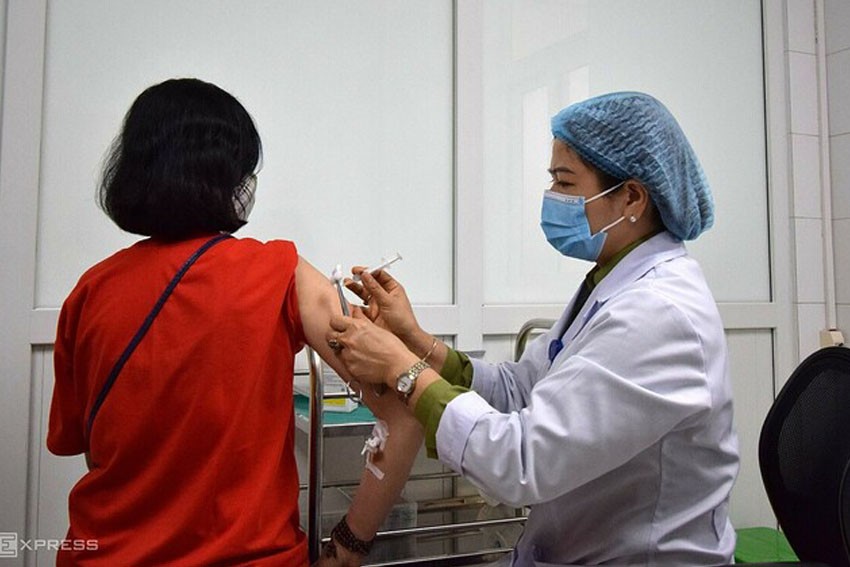 A volunteer injects a trial of the Nanocovax vaccine on March 25 at the Military Medical Academy. Photo: Chile
Nanocovax is a Covid-19 vaccine researched and developed by Nanogen Company. It is expected to enter the third phase of clinical trials in June. At this stage, the vaccine is evaluated for its protective effect in the community. tested on 13,000 volunteers. The trial injection will be conducted at many centers in the country, including the Military Medical Academy and Hung Yen in the north, the Pasteur Institute in Ho Chi Minh City and Long An in the south.
Initially, the third phase trial could be completed by the end of September. At this time, Vietnam can produce its first Covid-19 vaccine.
Initial evaluation results showed that the Nanocovax vaccine produced antibodies in all vaccinated volunteers. Vaccine generates immunity in 100% of people who have been vaccinated, effective with nCoV variants of British and South African origin. Antibody levels in some volunteers increased more than 60-fold with the second dose, compared with after the first dose.
Source: https://vnexpress.net/nanocovax-co-the-duoc-cap-phep-khan-cap-4286750.html