From the Distilled Essence of Medicine for Humanity, focusing on investment to promote the "Initiative for Excellence", German Medicine has been creating innovative products, providing the best services for human health improvement, which will be significantly introduced at Pharmed and Healthcare Vietnam–Pharmedi Vietnam 2019 from September 11 to 14, 2019.
->>> REGISTRATION FORM CLICK HERE
Emil Adolf von Behring was a German physiologist who has won, in 1901, the Nobel Prize of Physiology or Medicine, to be the first one awarded, for his discovery of a diphtheria antitoxin. Since then, Germany has consistently won with many achievements of advanced medicine, modern respectable and positive service to humanity.
In recent decades, especially since Angela Merkel took the position of Prime Minister in 2005, German medical platform has changed amazingly and contributed greatly to the world medicine platform. Behind the success of the German medical background is "Markel effect and a durable foundation of a nation rich in scientific tradition ".Chancellor Angela Merkel has issued manually series of strong policy impact on the transformation of German Medicine such as: Annual public funding for Medical Research from 3-5% of the budget; Increasing funding to preserve talents and attracting talents from many countries such as USA, UK, Japan, etc., willingly and reliably to stay and look to Germany for research and dedication to German Medicine; Creating a link in Medicine, promoting emulation of Excellent Initiative, Distilled Essence, finding new effective ways to cure incurable diseases, strange diseases and strongly developing artificial intelligence. In addition, Germany is known to enhance human values ​​and quite strict with ethical violations. Therefore, German Medicine is first priorated to creating all products to serve people with the best quality and humanity.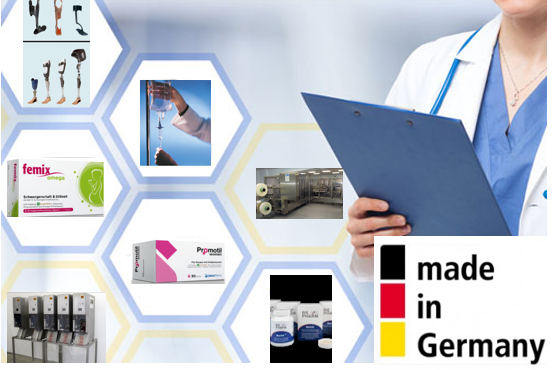 With that platform, The German Federal Ministry for Economic Affairs and Energy is pleased to introduce modern, advanced and high effective medicines and medical equipment in the PHARMEDI VIETNAM 2019 exhibition.There are:
Experimental drugs, manufacturing Nanocellulose derived from biotechnology, nutritional medicine.
Machinery & laboratory equipment.
Dental, ophthalmology, dermatology, gynaecology, obstetrics equipment & devices.
Medical Equipment & devices.
Aids & Assistive technologies – Homecare devices.
Equipment & Beauty Products.
Machinery for making medical bags and filling.
->>> German Exhibitors list and Floor Plan CLICK HERE
BUSINESS MATCHING PROGRAM with German Companies will be taking place in parallel with the exciting activities in the framework of Pharmed & Healthcare Vietnam 2019. German companies also expect to receive the support of Vietnamese companies and meet potential customers & partners to develop together.
Please register in advance to optimize your valuable time!
Related post