The International Exhibition on Products and Supplies for Medical, Pharmaceutical, Hospital and Rehabilitation will be held in HCM City in September with exhibitors from countries and territories that have advanced medical industries taking part.
Pharmed and Healthcare Vietnam 2020 will attract over 500 exhibitors from 25 countries and territories, including Germany, Belgium, the US, South Korea, Turkey, mainland China, Pakistan, India, Iran, Canada, Singapore, Malaysia, Thailand and Taiwan.
To be held at the Sài Gòn Exhibition and Convention Centre from September 16 to 19, it will showcase the latest pharmaceuticals, medical equipment and devices, hospital and clinical facilities, beauty care equipment, drug manufacturing and packaging technologies, and others.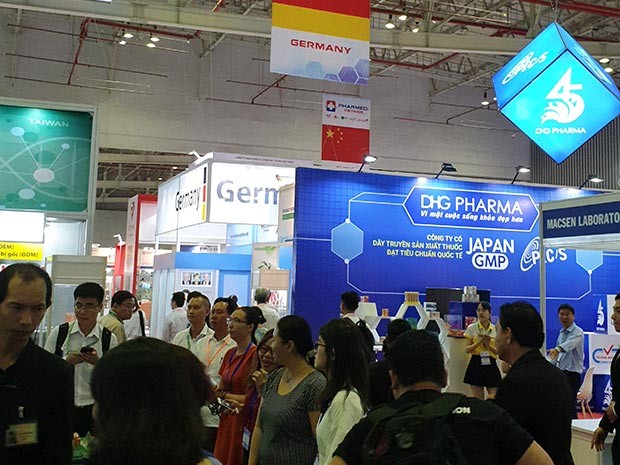 The 2019 Pharmed and Healthcare Vietnam held in HCM City. This year the expo will be held from September 16 to 19 at the Saigon Exhibition and Convention Centre and is expected to attract over 500 exhibitors. — VNS Photo
According to the organisers, the exhibition will also seek to foster exchanges in those fields between Việt Nam and other countries. It would showcase Việt Nam's latest achievements in those areas and help local companies market their products, seek investment and expand their market, they said.
As usual, it would include conferences and seminars addressed by leading experts in the medical and pharmaceutical, they said. A B2B business matching programme will be held to connect exhibitors and visitors.
Organised by Adpex Joint Stock Company, the Việt Nam Pharmaceutical Companies Association, and others, the annual exhibition is expected to welcome 15,000 visitors this year.
Source: http://bizhub.vn/corporate-news/pharma-healthcare-exhibition-to-attract-over-500-exhibitors_313912.html
Related post