Vietnam Dairy Products Joint Stock Company (Vinamilk) and Hậu Giang Pharmaceutical Joint Stock Company (DHG Pharma) on March 22 agreed to cooperate in product research and development.
The aim is to meet consumers' needs of healthcare and bring new values ​​to the community.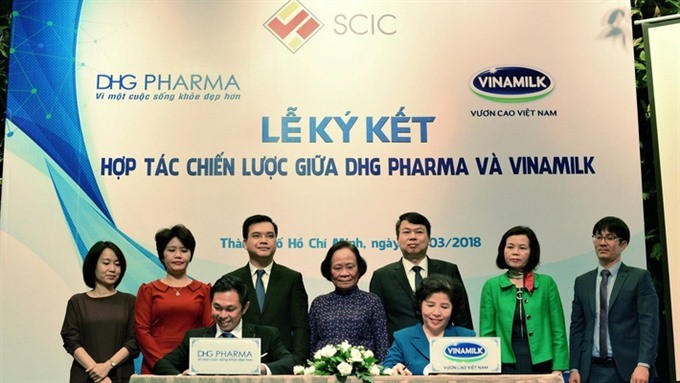 Leaders of Vinamilk and DHG Pharma sign strategic co-operation agreement on March 22. — Photo vneconomy.vn
This is an important milestone, marking a new direction in the promotion of strategic cooperation on product development, business and distribution between two of Việt Nam's leading companies in pharmaceutical and nutrition industries.
Under the strategic partnership, DHG Pharma and Vinamilk will jointly build new co-brand products or develop existing ones to serve the healthcare needs of people from all walks of life.
The two firms will also coordinate in supplying raw material to produce supplementary food products, utilising the strengths of each other's distribution capacity to help people easily access and consume nutritional and healthy products.
In addition to this, the two companies will help each other seek partners and customers as well as introduce scientific research to create new values, aiming to provide consumers at home and abroad with products with international quality.
Speaking at the signing ceremony, Vinamilk General Director Mai Kiều Liên said Vinamilk's mission was to bring high-quality nutrition to the community.
Vinamilk has always pioneered in partnering with prestigious national and international corporations to develop and apply achievements in nutritional science and health in its products, she said.
Cooperation with DHG Pharma is also a solid step in the strategy to combine the strengths of both sides towards the goal of introducing Vietnamese consumers to locally made products with international quality, she added.
Đoàn Đình Duy Khương, acting general director of DHG Pharma, said the application of scientific and technological advances to the production line not only contributed to raising competitiveness in the market but also showed the responsibility of DHG Pharma towards the community.
Long-term orientation of DHG Pharma is to join hands with scientists, in collaboration with institutes and schools, he said, adding that the company had also signed a scientific cooperation agreement with the Institute of Biotechnology for research and development of products.
DHG Pharma's signing with Vinamilk is also one of the strategies to help people easily access healthcare services and quality products.
"DHG Pharma believes that this partnership is a step towards creating new values and new products ​​that fit people's needs of healthcare, nutrition and physical improvement," Khương said. — VNS
( Source: https://vietnamnews.vn/economy/425018/vinamilk-hau-giang-pharmaceutical-join-hands-for-rd.html#GY5Hy6EC5T704dr2.97 )
Tin liên quan